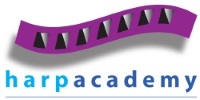 Bringing harmonica music to your school community
If you're thinking the harmonica could be a convenient and popular new musical activity in your school, let us know. We've been teaching harmonica in EYFS and Primary Education since 2010. We can run through the services Harp Academy provides and help identify the best strategy for your setting. And, most importantly as an independent music service provider, we will furnish you with all our health, safety and safeguarding documentation. This includes DBS, public liability insurance, first aid certification, our generic risk assessment, safeguarding training, child protection policy, prevent duty training and safe recruitment policy.
Lesson format – daytime or after school?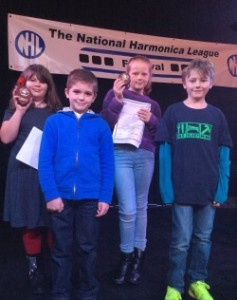 Harp Academy provides for children from 4-11 years in the following ways:  Our minimum group size is 6 children.Our minimum group size is 6 children.
  •  Daytime small groups (usually 6-8 children) – 30 minutes
  •  Lunchtime Clubs (usually 6-12 children) – 30 minutes
  •  After School Clubs (usually 6-12 children) – 30 minutes
  •  Daytime whole class access to music (approx 30 children) – 40 minutes
  •  1:1 music lessons on site – 30 minutes
  •  Bespoke workshops, presentations and projects
Our minimum group size is 6 children and we provide 10 sessions per term (30 sessions each academic year). We're happy to include your EYFS/Reception Year children; indeed, some may already have learnt harmonica with Harp Academy in their nursery setting. EYFS is a great time to take up the harmonica – no tricky keyboards, frets or finger holes for small hands. But for all new starters, the message is simple; if you can breathe in and out you can play! Please note that we will aim for at least an hour's worth of weekly activity on site, with a minimum two back-to-back half hour sessions. These will usually cater to different year groups (EYfS/KS1 and KS2, or Y3-4 and Y5-6).
F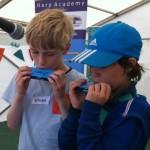 ree taster sessions and lesson costs 
Budgets are an important matter for schools and parents alike. Prior to subscribing in full to small group or club sessions, we provide a free taster session to ensure that everyone is happy with the arrangements. This includes a free starter harmonica and music sheet. Ongoing lessons are £18.75 monthly, or £64.35 for the first 10 week term, £71.50 per 10 week term thereafter, which is a third the price of private music learning. Harp Academy administrates subscriptions and registers (see below). The only other cost is an optional one-off payment of £19.99 for a harmonica music pack; alternatively parents can supply their own kit (folder, diary, 10 hole harmonica). Children should bring their music packs to each lesson and instruments cannot be hired or borrowed. Depending on group sizes, children can join a group or club at any point during our 10 week schedule.
Ready to launch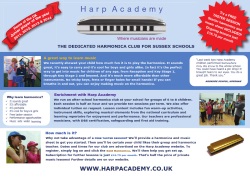 When you are satisfied that we meet all your School's safety and good practice criteria, it's time to arrange a 15 minute harmonica demonstration in whole-school assembly, or split assemblies. We will play to the children as they arrive, then again as they leave for classes. During the assembly, we will explain how the harmonica works in an entertaining format, and invite one or two children to try it out. There will usually be time for a few questions at the end of the demonstration (this is provided free of charge).
Promoting your new harmonica activity
We would ask for your collaboration in promoting the harmonica to parents on an ongoing basis. An announcement in your school newsletter is an effective way of getting things started. After our initial demonstration, we will supply promotional flyers for children to take home. If you have a paper-free school policy, or an alternative recruitment system, let us know in advance so that we can plan accordingly; we can supply digital copies of our flyers. We can also supply colourful posters, deliver a promotional home-time busk, and provide logos and information for your clubs web page. Within a week we will let you know the level of response. If we achieve the minimum group/club uptake of 6 children, we are ready to get things underway.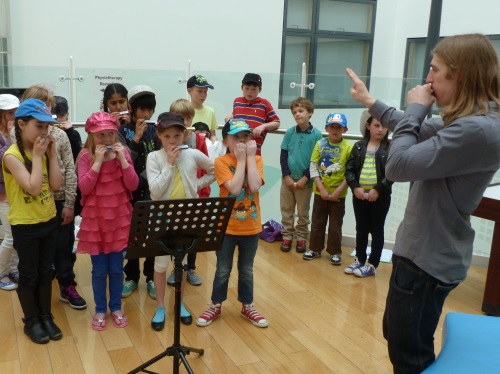 Payments and admin
Harp Academy will handle all day-to-day admin, processing registrations and subscriptions, so there is no additional burden to your office team. We will forward a copy of our register to you at school, so you know which children have signed up. We will also introduce ourselves to your office team so they have the opportunity to ask any questions. We're happy to talk to class teachers and meet with parents too.
Important points to consider
Before we visit you at school, the following check list will help in fine-tuning our planning:
When would you like to launch your harmonica activity?

Are you considering daytime teaching or an after school club?

What is the target group (Reception, KS1, KS2)?

Is an enclosed teaching space available?

Is there potential for teaching back-to-back half hour slots (eg. KS1/KS2 or Y3-4/Y5-6)?

What are your School's health and safety requirements?

Is there a cost for room hire?

Can we arrange assembly playbacks from time to time?

Can harmonica parents attend assembly playbacks?

Do you need references from other Harp Academy schools?

Can we be included in school newsletters and on the school website?

Can we feature in the school's newsletters or clubs information?

Can we display Harp Academy flyers and posters in school?

Can we deliver a demo assembly twice a year to maintain interest levels?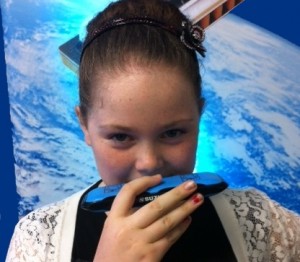 Whole class teaching
As an alternative to our small group and club scenarios, we can provide weekly 40 minute whole-class sessions; usually for 10 weeks. These can be tailored to Key Stage learning and we are happy to work with a number of classes in one day. The guide price for each lesson is £50.00 per hour pro rata. This is invoiced to your school and payable within two weeks of our final session.
There is just the additional cost for a stock of starter harmonicas to be considered – for health and hygiene reasons, we recommend these are not shared. Harp Academy can recommend the best harmonicas for your needs and supply these at discounted bulk rates. Our guide price for bulk orders of 4 hole Speedy starter harmonicas is £4.50 per child (inc VAT); 10 hole Airwave models can be supplied for £8.50 per child (inc VAT). Schools normally recover the instrument cost through parental donations and funding.
1:1 teaching
From time to time individual children outgrow their group settings, but are keen to continue the harmonica. We offer daytime 1:1 private half hourly sessions, which might be something you'd like to consider. Musicians Union teaching rates apply.
Resources