Major Blues Harmonica
One or two students have recently bought an Eastar Major Blues Harmonica, as they upgrade to a 10 hole model. Eastar manufacture their harmonicas in China along with their range of budget musical instruments.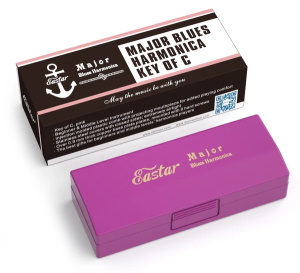 Depending where you shop, you'll find Major Blues Harmonicas for between £8.00 and £11.00 each. The cheapest price we found was £8.00 on Amazon, but we would also have had to sign up for Amazon Prime to buy one. Instead, we ordered online from a European dealer for around £10.00 including postage and tax.
Eastar's outer packaging is a simple card box with the brand's anchor logo. Exterior information explains that this is a beginner and middle level instrument. Our opinion is it's suitable for beginners, as intermediate players would naturally upgrade to a sturdier brand. The box also explains that the harmonica is in the key of C, pink in colour, with a plastic comb and projecting mouthpiece for added playing comfort.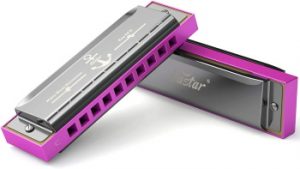 We're inclined to agree that the harmonica sits comfortably in the mouth. The cover plates are stainless steel (not silver as advertised on one side of the box) with closed ends. Eastar maintain these are extremely airtight. Harmonica players look for airtight reed plates rather than cover plates. However, closed cover plates ends do enhance the overall tone and projection of any harmonica, including this one. Which is useful.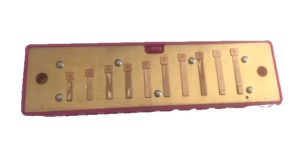 Checking under the hood
Additional details on the packaging indicate the reed plates being over 0.8mm thick, 'copper base' (also described as copper), and mounted with 9 hard screws. When we removed the cover plates to investigate however, the reality was very different.
The reed plates are counter-sunk into the pink comb, which is good for an airtight assembly, but we found 7 permanent rivets holding the reed plates in place, which is a problem. There is no way of removing the reed plates for cleaning or retuning reeds. Also the reed plates appear to be brass rather than copper or 'copper base', and the reeds themselves are copper coloured rather than brass; possibly phosphor bronze.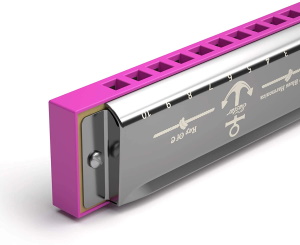 Elsewhere the reed plate thickness is listed as 1.0mm thick. As we cannot remove the reed plates however, there is no way of confirming their true specification. Overall, we have to disagree with Eastar's online information that the harmonica is to clean and maintain; this is not the case.
Proof of the pudding
Easter's marketing information says the harmonica generates a 'vivid sound', with a voice that is sweet, accurate and pure. When we played the major arpeggio and scale the response was good and the notes correctly sequenced. The quality of the sound was certainly bright and pleasant. Unfortunately a couple of notes appeared to be marginally off pitch and blow 10 was leaky and difficult to activate. Here's how it sounded.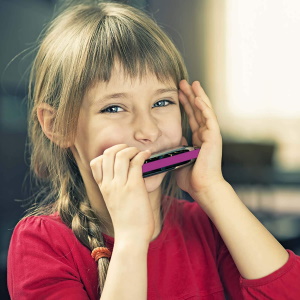 When it came to playing chords on the Major Blues Harmonica, things quickly began to unravel. The draw chord in holes 1 to 4 worked, but the blow chord in the same holes was badly out of tune. Here's how it sounded:
We then tested the harmonica to see if it was in tune with itself by playing pairs of octave notes. You can hear from the result that it was badly off pitch and dissonant.
Finally we checked the drawn octave pairs. The result was the same.
So, while the scale notes in holes 4 to 7 were acceptable when played in isolation, chord playing and interval pairing are painful and a waste of time.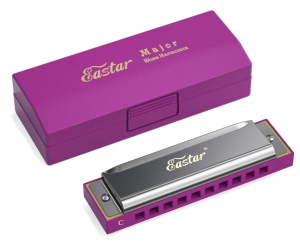 Outside the box
Eastar's online promotional text describes the 'striking, exquisite piano box'. It is an attractive feature. It's bright pink, sturdy and well made and contains a small cleaning cloth. The harmonica is also described as having a beautiful appearance, with its laser carving of an anchor reflecting the vitality and strength of the instrument.
This is eloquent, but overkill. As is this Eastar's subsequent narrative: 'while the pink comb is 'full of maiden wind' and makes it easy for teenagers to fall in love with music'. Poetic but ultimately hot air as we discovered earlier.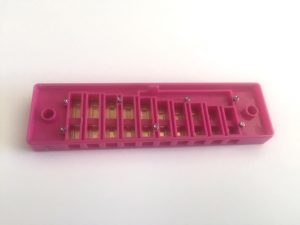 Looking into the breathing channels from the front of the harmonica, we noticed what Eastar calls the airflow splitter. It's a narrow band of plastic that runs laterally across the mid point of each chamber, creating a small shelf. Eastar claim this is conducive to maintaining stable airflow, and makes it easier for beginners to play smoothly and master bending skills quickly.
If this is the case, we are pretty sure other manufacturers would have adopted the feature long ago. It could be argued that placing anything in the breathing chamber will act and a breath inhibitor and is undesirable. Equally it could be that this is a residual feature of the comb's plastic extrusion process, which saves on further machining. Without further evidence our jury is still out on this detail.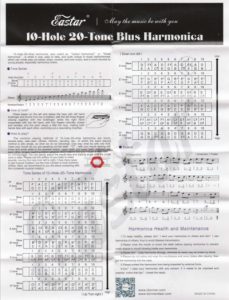 Reading between the lines
The user manual is a folded slip of paper, headed 10-Hole 20-Tone Blus Harmonica [sic]. The font is so microscopic it's almost impossible to read.  The sheet lists the tuning of fourteen different harmonica keys, which is completely unnecessary and will bamboozle beginners. There is also a tiny tab for the tune Oh! Susanna. The standard notation for this appears to be accurate, but the harmonica tab numbering is a total mystery and has no bearing on the tune whatsoever. We gave up on the poorly translated instructions when we came to 'and it seems that your mouth is filled with an arching eggs'.
Toy or instrument?
Were very disappointed and struggled to award the instrument three stars. It's saving grace was the melody notes of the major scale, which played in tune and the packaging, which is a nice colour. It is a budget harmonica however, so you get what you pay for. Eastar could improve its product by employing someone who speaks English to launch an holistic overhaul of their written information; it's appalling! Next they should quality control the tuning of the instrument. These two things would make their attractive and airtight instrument much more valuable to entry level harmonica players. Without these, it remains a bargain bucket offering and probably perpetuates the harmonica's reputation as a toy.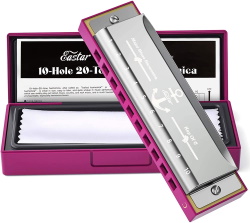 Our conclusion
As with all things in life, you get what you pay for. This is not a harmonica for the serious learner. Customers appear to be buying the harmonica for young children, particularly grand daughters (the pink effect). Consequently it's going to get dropped. Negative consumer reviews say the harmonica's cover plate screws quickly disconnect, that harmonica breaks apart and it doesn't last long. It is cheaply made, but these details could be easily and cheaply be upgraded by Eastar. The company states it offers a 12 months of limited warranty support, whatever that entails. We doubt anyone would bother sending back their harmonica or its components, or complaining about an item that costs so little. Unfortunately this probably means they'll never touch a harmonica again either, which is a great shame.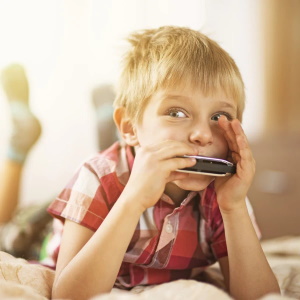 Eastar Would Never Disappoint You
This is the claim in their advertising. We'll leave you to judge, but for fun here's some more of their online marketing information, which includes the use of 'tasteless materials'.
Compare carefully, and you'll find that Eastar's Major Blues Harmonica is really the best gift for you or your friends and family. We have three big advantages:
1: price, compared to the same type of harmonica, our major Eastar has the most affordable price, we insist on the highest cost, the best configuration, to provide customers with the cheapest products. Let you fully experience the joy of musical instruments is our original intention.
2: product quality, Eastar will be able to develop our products, with more than 20 years of harmonica production experiences Eastar, from Reeds selection, green, non-toxic and tasteless materials to harmonica airtightness patent research and development, we only want to do a good job in product.
3: After-sales service, Eastar has the most lovely backstage customer service, We are willing to use 200% efforts in exchange for your 100% trust and affirmation, If you have any questions, you are always welcome to consult us.. We will continue to launch excellent products.