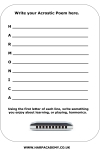 Acrostic Poem
Have fun using your literacy skills to express your thoughts about the harmonica and why you enjoy playing it. Each line begins with a letter from the word harmonica, so it's easy to get started. Let your imagination run riot and see what ideas jump out.
Here are some lines we created;
Happiness is my harmonica
Always by my side
Rocking and rolling
Making faces smile
Occasional wrong notes
Never disappoints
I'm soaring on
Cool sounds that
Amaze.