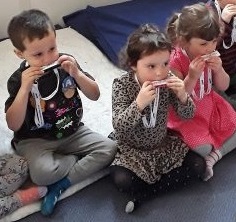 Hopscotch Children's Nurseries
During the summer term of 2018, Harp Academy piloted a Pre-School harmonica programme in collaboration with Hopscotch Nursery team on Portland Road, Hove, and sixteen of their fabulous children.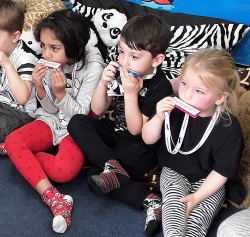 It was an amazing experience for everyone. The children learned all about arpeggio, scales, key instrument skills and the musical elements through our games and activities. They also learned to play Twinkle, Twinkle perfectly and embarked on an accompaniment to Wimoweh (The Lion Sleeps Tonight). Most of all, they learned to appreciate how much fun music education can be. Our fledgling harmonauts were unbelievable and we wish each of them well as they move into their Reception Year.
For our part, it was a welcome challenge researching simple ways to relate complex processes. Our first hurdle was the apparently simple action of inhaling in a controlled way; a fundamental skill for making music on a harmonica.
Pre-schoolers are pre-programmed to blow out birthday candles and suck on straws. They know how to breathe in and out instinctively, even when sleeping, but have never consciously applied this to a musical instrument. Even without a harmonica, the process of drawing and exhaling breath is a whole new concept for many pre-schoolers. With the aid of one or two props however, everyone cleared the first hurdle in style!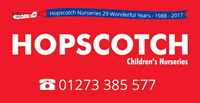 We very much look forward to returning to Hopscotch Portland Road in September 2018, and also to launching our programme at Hopscotch's sister sites in Brighton and Seaford. Standby for more top tooting!