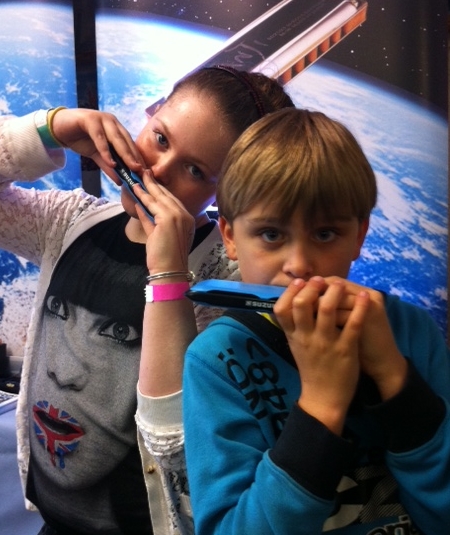 All comers welcome!
Our Open Harmonica Club is available to children from any Infant, Junior or Primary school in Brighton, Hove and the surrounding area. We meet on Wednesdays at Aldrington Primary School in Hove, with separate 45 minute sessions for KS1 and KS2 children.
Aldrington CE Primary School, Eridge Road, Hove, BN3 7QD.
KS1 4.15pm-5.00pm
KS2 5.15pm-6.00pm
Club dates are published in our My School menu here.
What do children do at the Club?
Each session begins with a fun musical ice-breaker. We then warm up with scales, arpeggios and standard exercises. Next we move into repertoire, learning pieces from our syllabus, and build technical skills. We also have a termly theme; some past examples include Film Themes and texture, Songs of The Sea and dynamics, and The Beatles and Structure. You can find our termly Teaching Plan in our My School menu.
Performances
Finally we have one eye firmly set on performance opportunities. This may be at The Brunswick's annual Harpin' By The Sea Harmonica Festival (Feb), or at one of our public 'blow outs' – The Alex Children's Hospital (Dec), The Brighton Festival (May) and Paddle Round The Pier Beach Festival (Jul).
Free taster and ongoing sessions
Your first session is entirely free and includes a 4 hole starter harmonica. This way we know everyone is happy and everything works before you continue.
Ongoing sessions
The cost for each ongoing session is £7.99 and payment is made half termly in advance by BACS, or through our website Store using a credit or debit card. Subscribers will also be given free access to the home learning and support pages here on our website.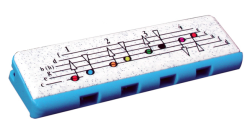 Registration
Places are allocated on a first-come first-served basis. To register for your Free Taster Session, simply click the Gold Harmonica and complete our online form. If our club is full when you register, we will advise you of available alternatives, or keep your child's name on our waiting list.
Harmonica Kit
Once they've signed up in full, every child (or harmonaut as we call our players) is required to bring a music folder and diary to their club sessions. Parents are free to supply these themselves. They can also order them through our Store as single items or as part of our standard Music Pack.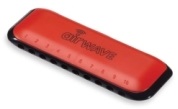 KS1 children can continue using their 4 hole starter harmonica until they are ready to graduate to a 10 hole instrument, however KS2 harmonauts are expected to upgrade to a 10 hole harmonica by the end of their first half term. Again parents are free to supply this themselves, place their order through our Store. A 10 hole Suzuki Airwave harmonica is recommended and also comes as part of our Music Pack. Harmonauts should bring their full harmonica kit to every session.
What if I forget my harmonica?
We have spares that can be purchased on the day, however for reasons of hygiene, we hope you will understand that we cannot lend or share harmonicas.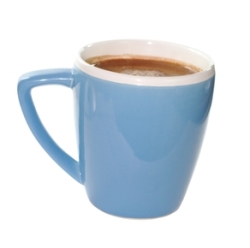 Is there Parking on site?
There is a small amount of free parking adjacent to the School.
Is there somewhere parents can wait?
While there isn't really a waiting room for parents on site, there are local visitor-friendly facilities on hand. Waitrose is just around the corner with its own coffee shop and café. In warmer weather, Hove Park is nearby for strolling, picnics and dog walking, and has it's own café.
Goldstone Retail park is also close by with shops and food outlets, and there are more shops, food outlets and a petrol station at the western end of Nevill Avenue, towards Hangleton. In warmer weather the Nevill Recreation ground, which is right next to the school, is another option for dog walkers and picnickers (and there's cricket to watch in the summer months).
Terms & Conditions
Our standard terms and conditions apply and you can check these here.