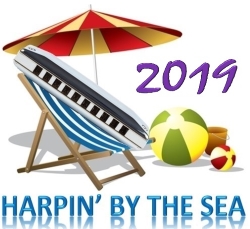 Presta Atención! The Latin Masters are coming to Brighton
Saturday 2nd February 2018, The Brunswick, Brighton & Hove, UK
Harpin' By The Sea has become a pillar in the annual international harmonica music calendar and it's right on your doorstep. Our winter festival and 'learn to play' day, takes place at The Brunswick in Hove (UK) and it's a fabulous occasion. Harp Academy grown-ups often mention they'd like to give the harmonica a go. With a full day of workshops for all ability levels, this is the perfect way to get started.
Furthermore, our Beginners' learn to play day is open to Junior harmonauts 8-15 yrs too. So you could combine it into a mums and chums, or dads and lads fun day! Hot food and drinks can be purchased on site and there's free wifi too.
For our wider audience, this year's theme is Latin harmonica style. Fede Vaz (Uruguay), Marcos Coll (Spain) and The Blackjacks are making their way to Brighton to entertain, educate, challenge and amaze all our guests at HBTS9 with their infectious rhythms and musical pyrotechnics. So turn up, dig it and tell ALL your friends;  tickets are going fast.
You can secure your ticket, with reduced rates for Junior players, through The Brunswick website here. You can also visit the HBTS dedicated website at www.harpinbythesea.com to preview our fantastic programme of workshops for all abilities, exclusive master classes with Richard Taylor, Fede Vaz and Marcos Coll, our list of guests artists and instructors, and find the answers to all your logistical needs.